By Diana Kelly Levey
Your bedroom is the true heart of your home (sorry, kitchen!). Why? Because you spend about a third of your life sleeping, and much of that happens in the bedroom. Yet many of us neglect to make this space as healthy as possible. Right now, your bedroom could be chock-full of clutter, dust, dirt, and your mattress might be an environmental nightmare. It's time to turn your bedroom into the cleaner, greener haven it should be. Try these six tips to get started today.
1. Invest in an eco-friendly mattress
You want your sleeping surface to be as non-toxic as possible. Unfortunately, conventionally-made mattresses contain synthetic materials, like polyurethane foam, that can release volatile organic compounds (VOCs) into the air—and your lungs!—and cause adverse skin reactions and breathing problems, experts say. When it comes to looking for a natural, long-lasting alternative, latex may be your best option.
The Awara hybrid mattress is made with inner coils and certified organic Dunlop latex harvested from trees. It's free from synthetic foams, chemical adhesives, and chemical fire retardants (their fire retardant is made from silica and better for your health). Plus, the top layer of the mattress that's closest to your body is made from certified organic cotton and wool. Their manufacturing process is also certified by eco-INSTITUT, which means the mattress passed testing for quality and health of materials. Awara also teamed up with global climate advocacy group, ClimatePartner, who plants trees for every Awara mattress sold. Combine all that with the fact that Awara is designed to last a lifetime and has a forever warranty, and you don't have to worry about your mattress sitting in a landfill for the next 100 years.
12 Reasons a natural mattress could be your next best mattress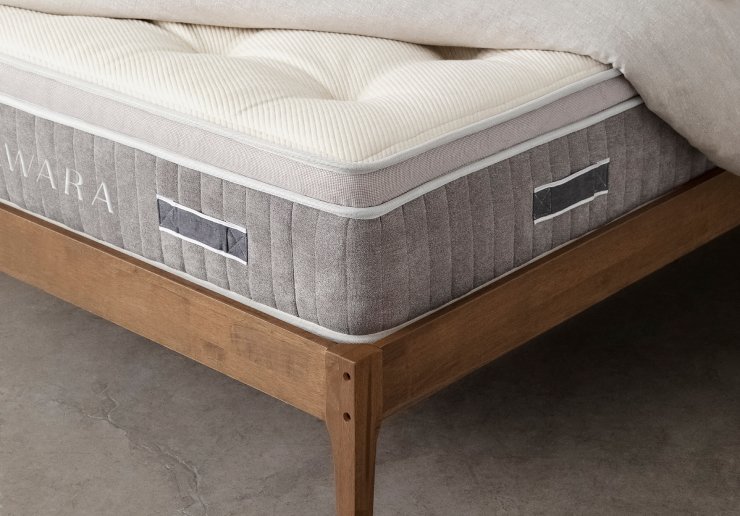 2. Try an organic mattress cover
You'll want to protect your new Awara mattress from allergens, like dust mites, with an organic mattress cover. Look for packaging that reads, "certified asthma and allergy-friendly," or a stamp from Asthma & Allergy Foundation of America (AAFA). Opt for 100 percent organic cotton, so you know you'll be sleeping on a chemical-free surface.
3. Go greener with your bedding
You want the softest, most luxurious sheets possible, and you don't have to sacrifice quality for sustainability. Instead of picking conventional bedding that could contain chemicals, like formaldehyde, which has been linked to dermatitis and cancer, go for sheets made from 100 percent organic cotton. They haven't been treated with toxic cleaners and pesticides, and they tend to be more comfortable and breathable than standard ones. Other healthy options for materials are hemp or organic linen. And instead of just scrapping your worn-out sheets in the trash to create more waste, donate them to a local animal shelter.
4. Wash bedding with natural detergent
Choosing a laundry detergent may not seem like an eco-conscious decision, but it is. Standard detergents often contain phthalates, chlorine, formaldehyde, and artificial colors that can get into the water supply, possibly leading to water pollution. These chemicals can also leave a residue on clothing and bedding that can be absorbed by your skin. Exposure to phthalates may have an impact on reproductive health (more research is needed). But why chance it? Although the FDA doesn't regulate the terms "natural" and "organic" on product labels, you can still shop for detergents made from 100 percent plant-based formulas.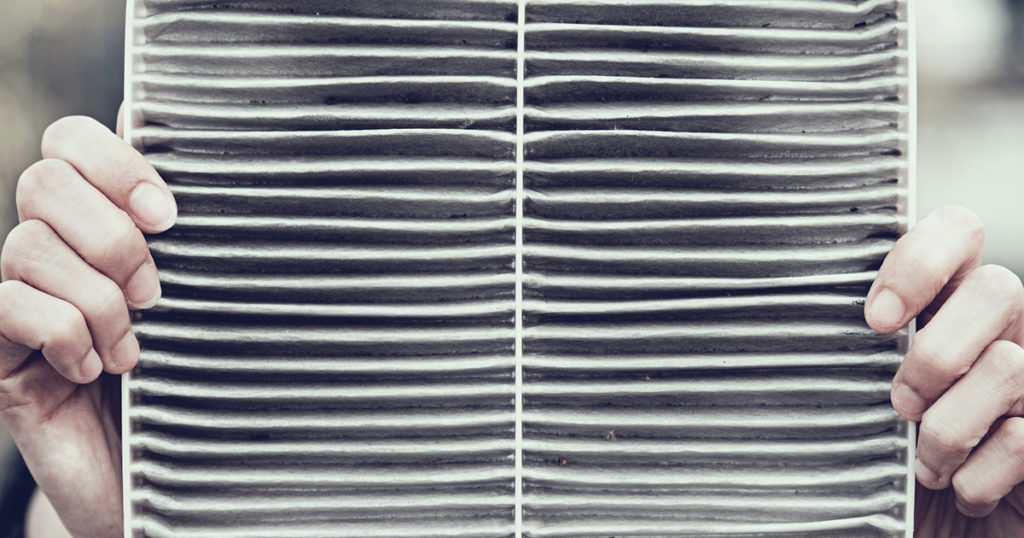 Ever wake up feeling stuffy or like it's hard to breathe? Your room might be filled with dust, pet fur, smoke, and even pollen if you left your windows open. Those allergens can do a number on your respiratory system. Your best best is to set up an air purifier with a HEPA filter to help relieve allergy and asthma symptoms. HEPA, which stands for high-efficiency particulate air filtration, traps microscopic particles in the air to improve the air quality. Bonus: You may get a reimbursement on your electric bill or a rebate if you buy eco-friendly versions. Check with your town's electricity provider to see if they offer rebates for high-efficiency products.
6. Bring in eco-conscious bedroom furniture
Ready for a makeover? Swap out your old bed frame for a new one made from sustainably sourced wood or another natural material, like bamboo. Look for nightstands and accent chairs that have low-VOC paints and glues. You could also shop a local thrift store for gently used furniture and "upcycle" it with low-VOC paint. And don't forget to donate your old furniture to charities or thrift shops.
Taking small steps to make your bedroom more eco-friendly can be a boon for your health and the earth. Think of your new green sleep zone as an elevated version of the tree house you always wanted.
Natural sleep is just one click away
Claim your instant $200 mattress discount here