With a preschooler, an 8-year-old, a rambunctious Labrador retriever, and an elderly Siamese cat, the floors in our home get a lot of wear and tear. I try to protect them with area rugs, but we go through them pretty quickly. A few months ago, I started to notice the rug in our living room was looking worn out. It had several faded spots and stubborn pet and food stains that wouldn't come out. If our friends wanted to come over, I would make excuses because I was too embarrassed to let them see our hideous rug. That was it — I told my husband we were buying a new rug for the living room, and he agreed.
We spent a few weekends looking in local rug stores with no luck. I couldn't believe the high prices, and to be honest, I wasn't in love with any of them. One night, I started Googling "area rugs" and came across www.wovenly.com. I was amazed by the wide selection and reasonable prices. And the website was easy to use — I could search by room, rug size, style, and color. There's even a rug size guide to help make sure you're choosing the correct size rug for your room.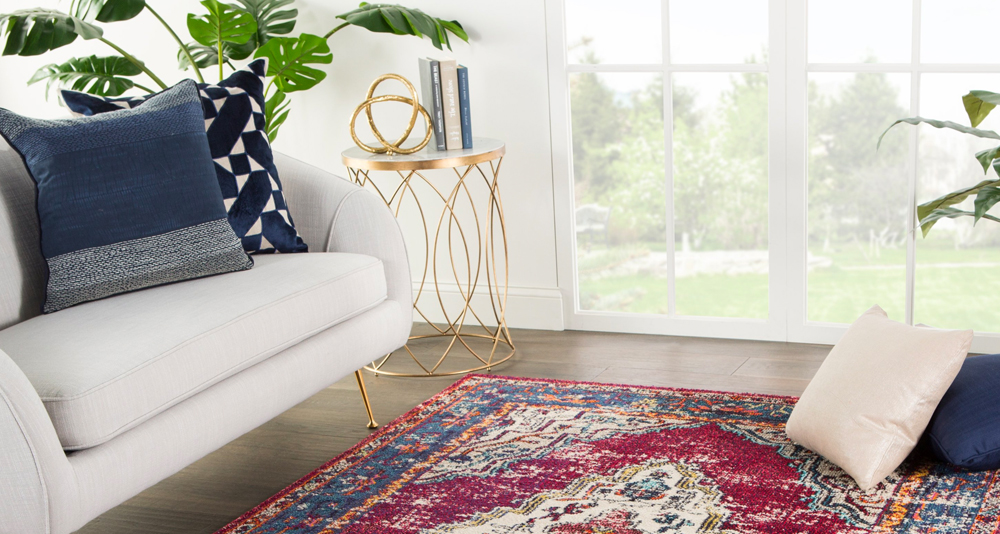 I knew I wanted a durable, colorful rug to contrast our beige furniture and white walls. A beautiful Turkish one called Eras stood out, with its vivid blue and gold colors, sophisticated scroll work, and flower details. It looked modern and vintage with an exotic touch, almost like a collector's item. Plus, it was fade-resistant, easy to clean, and made for high-traffic areas.
At just over $250 for a 7'10" x 9'10" size, I knew it was a good deal, but I was still a bit nervous because I'd never bought a rug online. However, with Wovenly's 60-day trial period, which begins the day the rug is delivered, I knew I could return it if I didn't love it. And with free shipping and returns, my husband and I figured we had nothing to lose.
I was so excited for the rug to arrive. It was delivered in no time, and I was pleasantly surprised by what I saw: It was just as pretty in person as it was in the photos online. The plush pile felt so soft and cozy on bare feet, and the design added a bright pop of color to the room.
Best of all, this rug passed the "family test." Within the first few days, my kids spilled ice cream and juice on it, but the stains cleaned up easily (major mom win!). Now we love spending Saturday nights hanging out in the living room playing board games and watching movies. The rug just makes the space feel warm and welcoming. Even guests give us compliments, and they're so impressed when I tell them about Wovenly. I feel like the hip online shopper amongst our friends.
I'm so happy we have a new living room rug we're proud of. The other day, I told my husband we should just buy new rugs from Wovenly for the whole house. He agreed — again. Needless to say, we're happy customers. Check out Wovenly's website — you won't be disappointed.