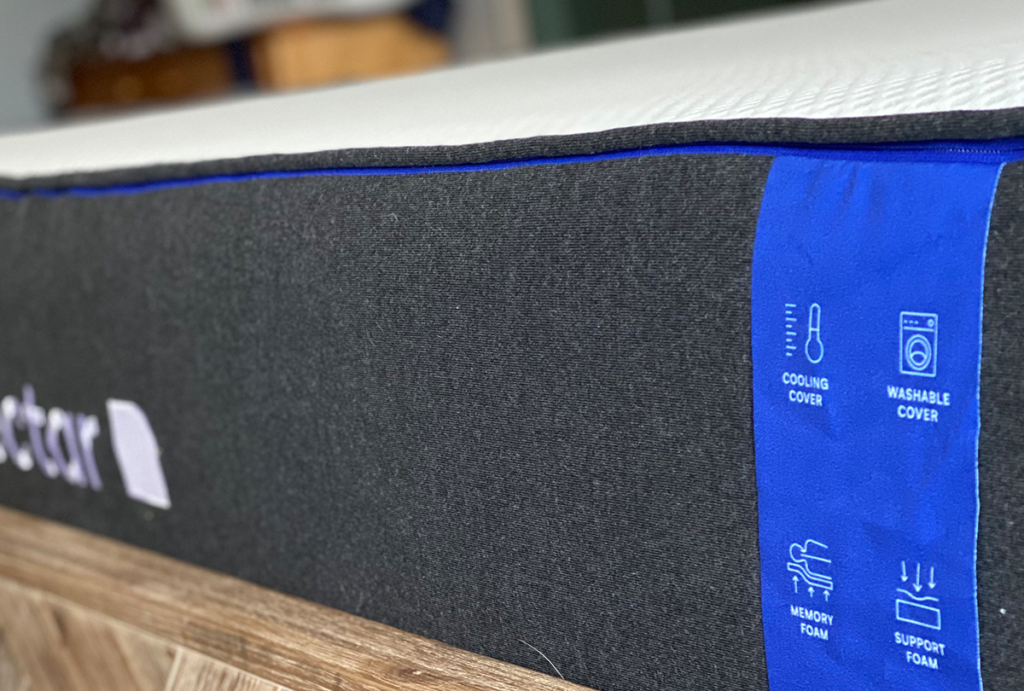 Are you tired of always searching for the cool spot at night? Flipping your pillow for the cool side? Or striking the perfect balance between having one leg under the covers and one leg exposed to the elements? Chances are, it's not you – it's your mattress! The good news is that not all mattresses sleep hot, and we think we might have the solution for you. So, don't worry, we've got you covered (literally). The search for your perfect cooling mattress may well be over! Here at Nectar, we're confident that we've developed a whole line of the best mattresses for hot sleepers, yet.
Heat Wicking Covers with Polyethylene
Say goodbye to searching for the cool spot with Nectar's new heat-wicking covers with cooling technology. We've developed awesome covers with Polyethylene, a fiber that we use in the cover of all of our mattresses – the Nectar, the Nectar Premier, and the Nectar Premier Copper – to help give you that cool-to-the-touch sensation you're craving while you sleep! Sure, most mattresses use breathable fabrics, but we take cooling a step further by incorporating Polyethylene fibers into our mattress covers, giving each of our Nectar Mattresses an edge. This innovative fabric draws heat and moisture away from your body and allows it to easily pass through the fabric out into the air of your room. Your mattress will stay cool-to-the-touch, so you'll never play footsie with the covers again!
Cooling Gel Memory Foam
The Nectar Premier and Nectar Premier Copper build on the Polyethylene in the cover to give you an even cooler sleep experience, using state-of-the-art Phase Change Material (PCM) on the top layer of foam–our cushy pressure relieving gel memory foam–which has been specifically designed to help respond to your temperature while you sleep! So, what does this mean for you when you're drifting off into cooler dreams? Nectar's Smart Layer of cooling cushy Gel Memory Foam is infused with innovative PCM. This means that the PCM in your mattress will absorb excess heat and redistribute it away from your body, helping to keep you cool when you need to be. If you find yourself getting a little too chilly, though, the PCM will return stored heat from other areas of the mattress and environment back to you. PCM responds to your body temperature needs accordingly, rather than other memory foam mattresses that simply promote airflow and/or retain your body heat. The Nectar Premier and Nectar Premier Copper will help you sleep at your optimal body temperature for better quality rest. Not only this but these three inches of gel memory foam on the Nectar Premier, and four on the Premier Copper, are specifically designed to take the pressure off of aching joints too, to make sure you're cushy and cool! To take it to an even more plush level, though, the Premier and Premier Copper have an extra 1 inch and 2 inches (respectively) of supportive or contouring foam, to make sure your comfort level skyrockets!
Cool Copper for an Even Cooler Sleep Experience
The Nectar Premier Copper goes above and beyond the Polyethylene and PCM for our coolest sleep experience, yet – and we mean that in every sense of the word! Here, we've added an incredible third component of cooling innovation! You might have already guessed it from the name, but we've added new copper fibers in addition to the Polyethylene fibers in the cover to give you the most comfortable and cool sleep of your life. Combining the cooling features of the Nectar and Nectar Premier, the Nectar Premier Copper works hard to help respond to your body temperature while you sleep. The copper in our cover works in tandem with the polyethylene to draw heat away from the body, but it also aids the PCM in the Cooling Gel Memory Foam to make sure it's responding to your body temp. In case you get too chilly, the Premier Copper's got you covered! It'll make sure you're snoozing at your optimal temperature for a great nights' rest.