At the beginning of 2020, the world changed for all of us. In the wake of COVID-19, all of us had to pause and reconsider life as we knew it. The impact was felt across our personal and professional life. But the human spirit is resilient and has the power to make the best out of every situation. And we sure did. Our couches and beds doubled up as workspaces in no time.
But, we are about to shake things up once again! For good, this time. We have 8 WFH corners that we've all dreamed of but never got down to creating. So bring out your notepads and start making a to-do list for your new office. With a quick tip at the end of every WFH set-up, we promise this will be easier than it looks.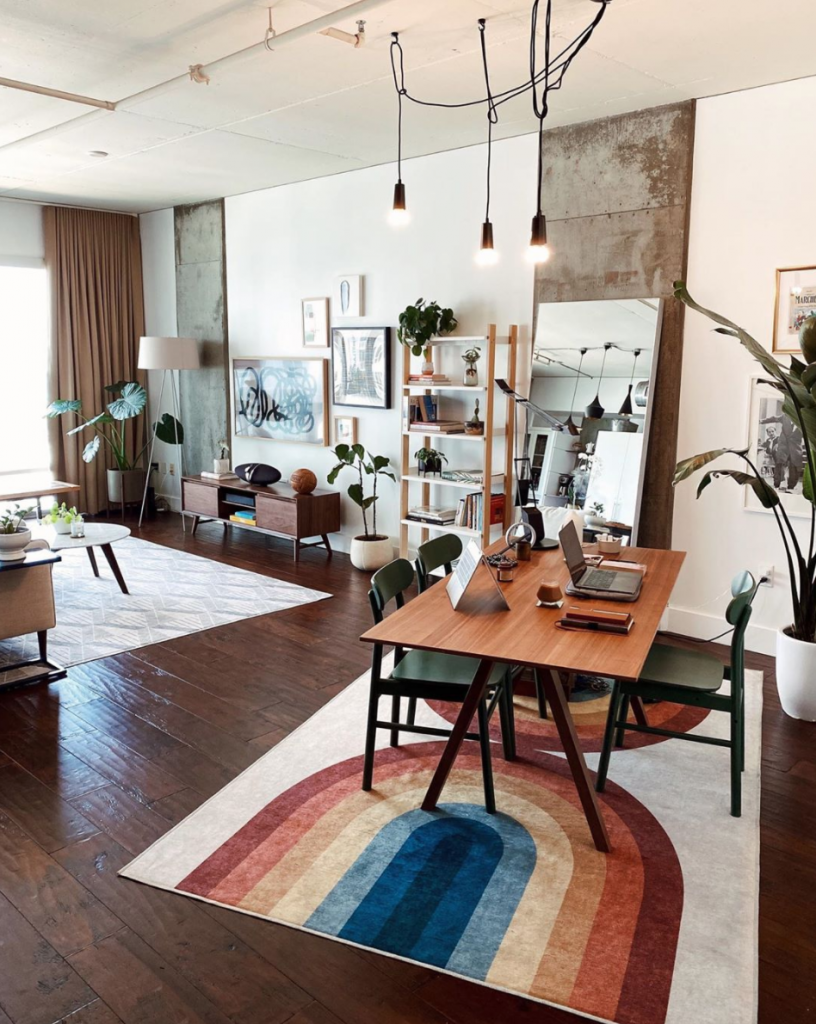 If you want to be in the kitchen, in the lawn and in the laundry room, all at the same time, we recommend this classy set-up. Without taking away the aesthetics of the living room, this WFH setup by Luis Arturo is a dream for multi-taskers.
The rainbow rug definitely adds charm and instantly brightens up the space. Set it up in the corner and not only will you have a roomier setup, but you also don't get in the way of everyday activities, unless YOU choose to.
The low hanging bulbs provide ample light and ensure that you don't fall asleep on the job. The plant in the backdrop is a great addition as are the chairs on both sides of the table. If you are looking for a simple, uncluttered setup, we highly recommend this.
Multi-taskers, people who enjoy taking breaks in between work.
Quick tip: Substitute the rainbow rug with a bright rug and the low-hanging lamps with a DIY hanger lamp.
2. Natural light, a cosy corner and some plant therapy – need we say more?
f you have been missing the outdoors, you need a WFH setup that keeps you close to nature.
Clear a corner of your house that is close to a big window or a door leading outside, set your table against the light and let the creativity flow.
This setup by Jenna of cozy.happy.home is neat, artistic and a delight for creative souls. 
The dual-tone of earthy brown and white brings out the green of the plants and you can't help but start work early morning.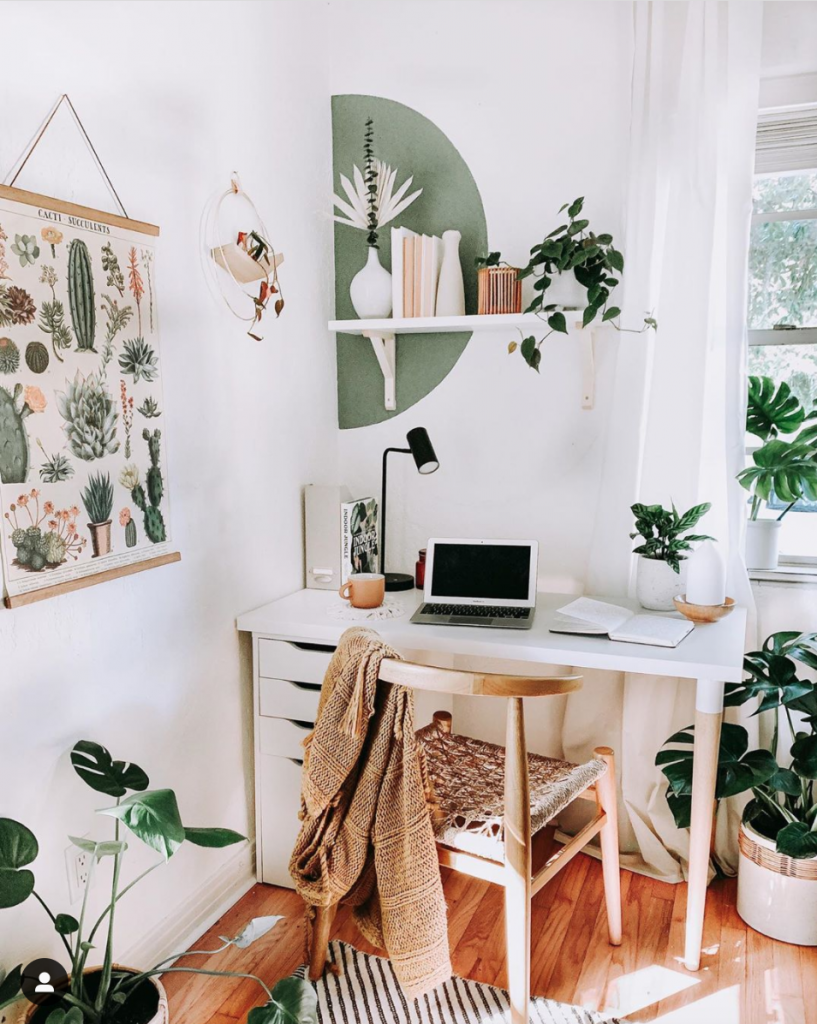 Writers, artists, nature lovers, people who enjoy the company of chirping birds.
Quick tip: Place a shelf in the corner to keep all your things and you will find yourself with an uncluttered desk. We suggest handmade art for the walls to keep the rustic charm of this corner.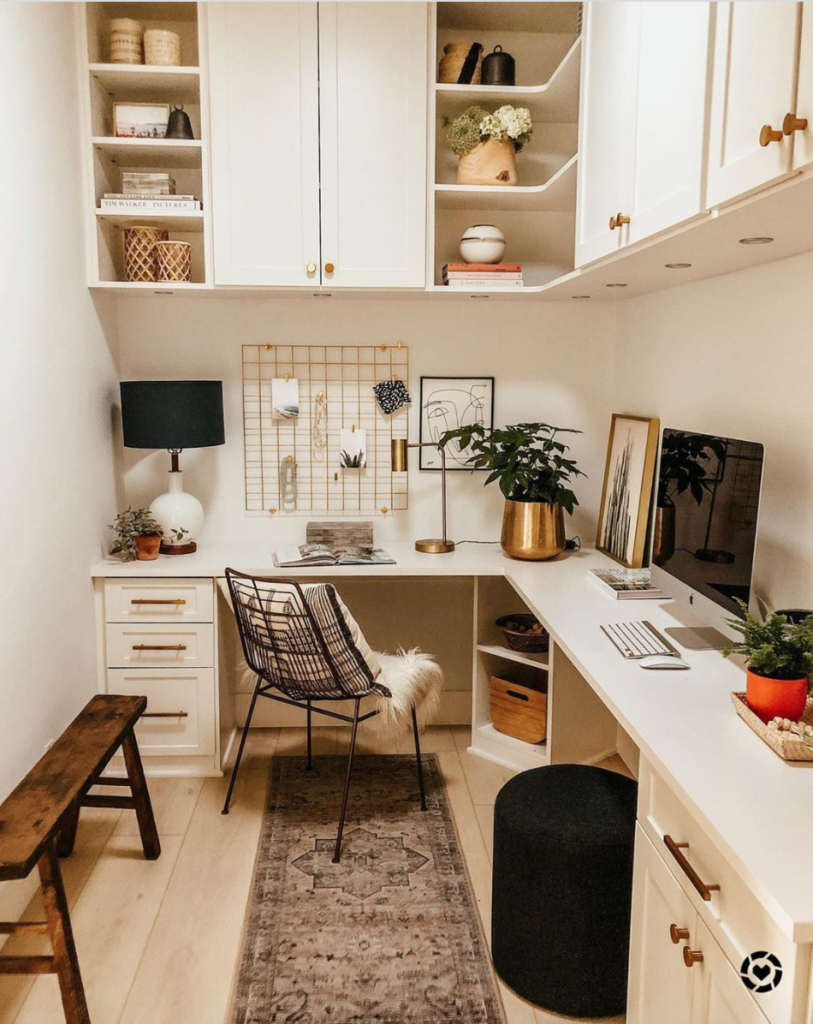 Sometimes, we want everything in one place. A pinboard, a plant, art that we love and lamps to brighten up the space. And why not? Let's make a corner that's completely yours.
The trick is to remove everything you can do without and keep space for everything you absolutely need. It's also a good idea to keep refreshing the space. Move things around, add small accents and you have a dynamic workspace without moving an inch.
Anita Yokota's WFH setup inspires because it's a mix of everything we love. A pinboard for important messages, a footstool to rest the feet, and ceiling-to-floor cabinets for all office supplies.
For busy bees who thrive amidst a creative mess.
Quick tip: Organise things according to your needs. Refresh every few days so that you aren't bored.
4. Pastels and white are an irresistible combination. One that inspires to create.
Chevonne's WFH setup has softness etched all over. She fondly refers to it as the "Mom Cave" and one look at the picture and you'll know why. If you want a quiet space to retreat to, this is what your space should look like. Soft pastels, a dash of vibrant accents and a super soft throw to complete the setup.
It's impressive how white and pink are used in careful proportions and nothing looks jarring.
Try this setup if you have a large window calling out to you. We recommend following your own color-scheme if you are adding personal pieces such as a journal and your current read – also the ideal way to unwind after work hours.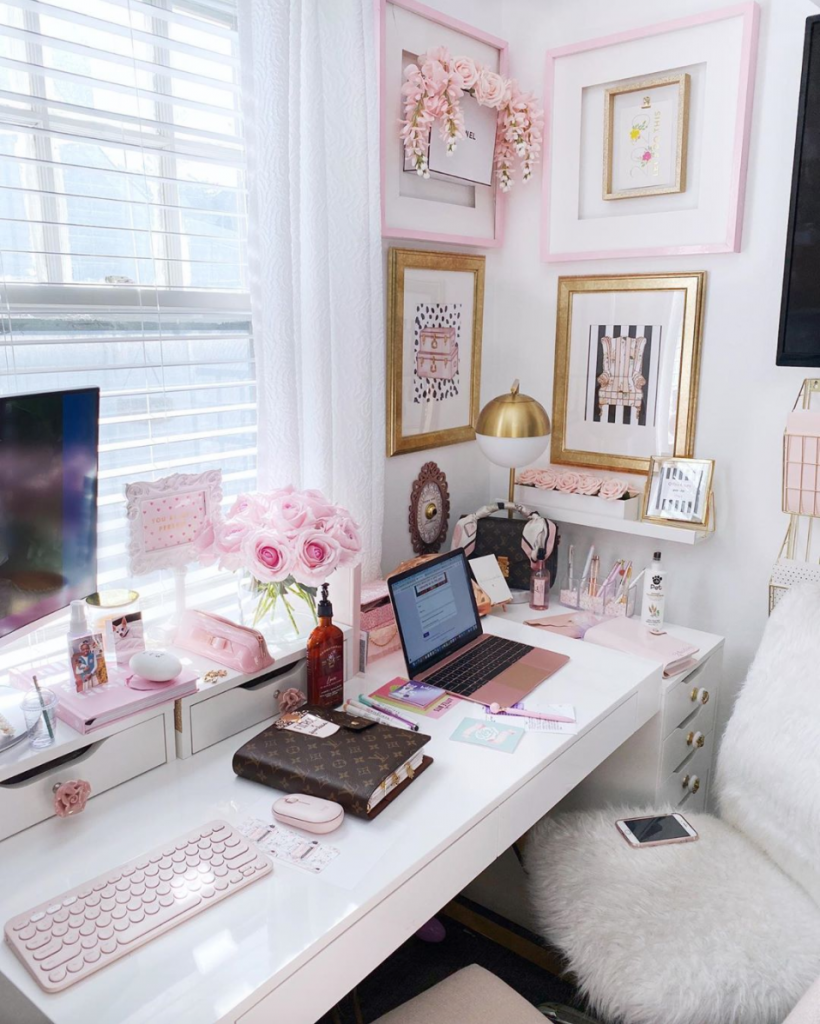 Anyone with an overwhelming work schedule will find peace in this gorgeous corner.
Quick tip: Add a soft throw or an Aztec tablecloth to add some boho to the room.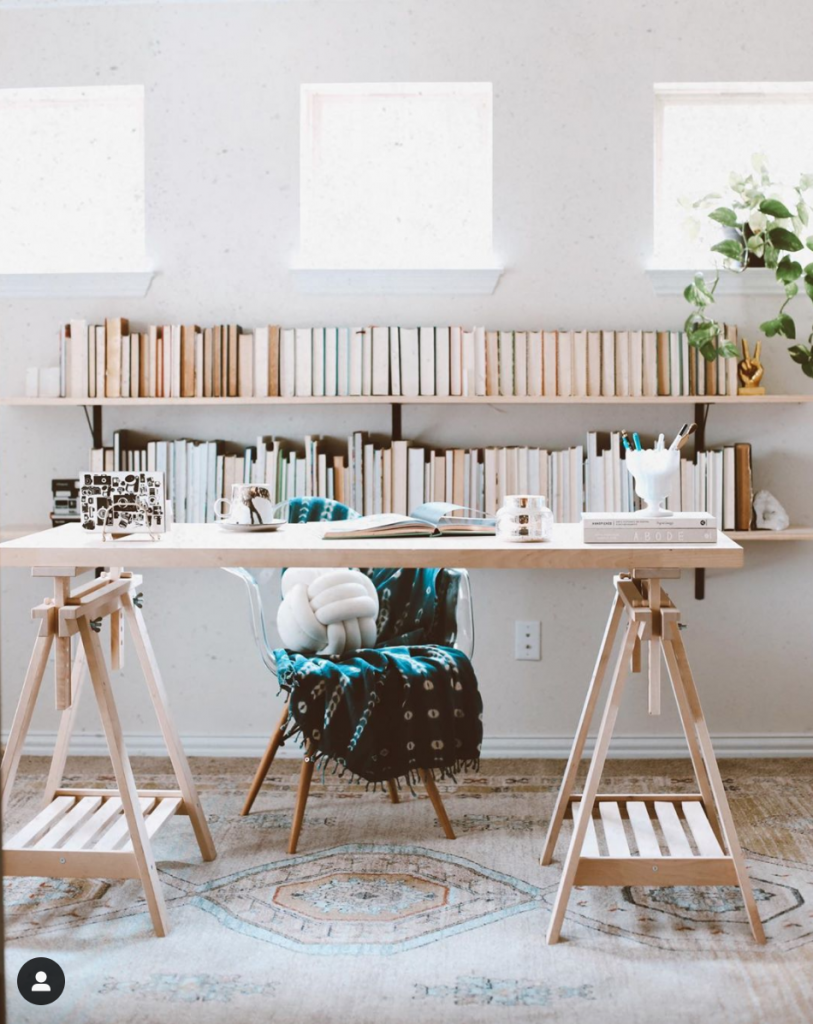 If too many distractions break your flow, then here is a WFH setup that is made to sustain productivity and energy throughout a busy work week.
The walls are in muted shades and a parallel shelf contains everything you need.
From books, journals to important work documents, everything is only a shelf away.
This setup also keeps you away from everyday activities and you can get your work done in a few hours.
Entrepreneurs, coders, designers who need to concentrate for long hours.
Quick tip: Add a tint of color in the form of coffee cups or potted plants to keep the playful element alive.
We've always been bemused with Apple's obsession with minimalism, especially the whites. But, Marianne's WFH setup explains why minimalism should get the due it deserves.
From what is seen in the picture, it's clear the white ceiling, walls, and furnishings exaggerate spaciousness and tranquility. We can almost hear Bach's classics in the background.
The white walls and the softly pouring natural light give the room an ethereal vibe while the flower vase and potted plants add just the right amount of vibrancy. The cushioned bench is perfect when you want to stretch your legs and take a snooze.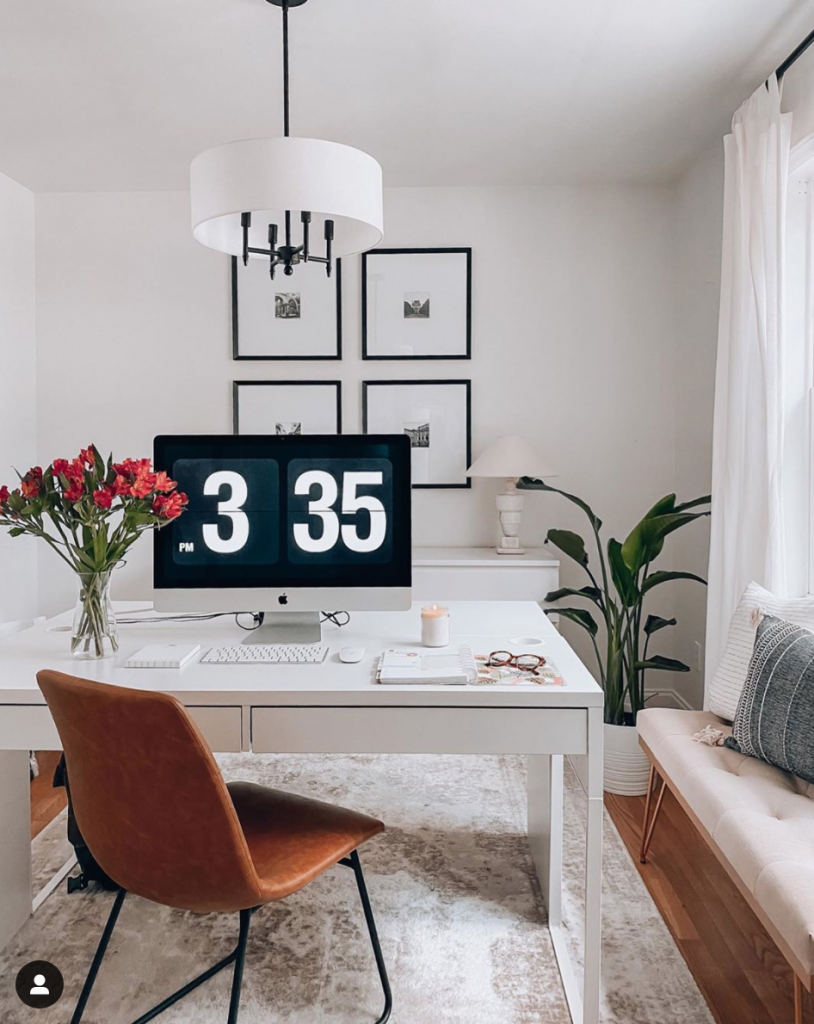 Writers, artists who prefer a blank canvas before starting work. If you have a busy work schedule, this beauty is just what you need to find peace in chaos.
Quick tip: Balance the muted tones with solid colored objects such as a bright chair, a vibrant rug or cushions.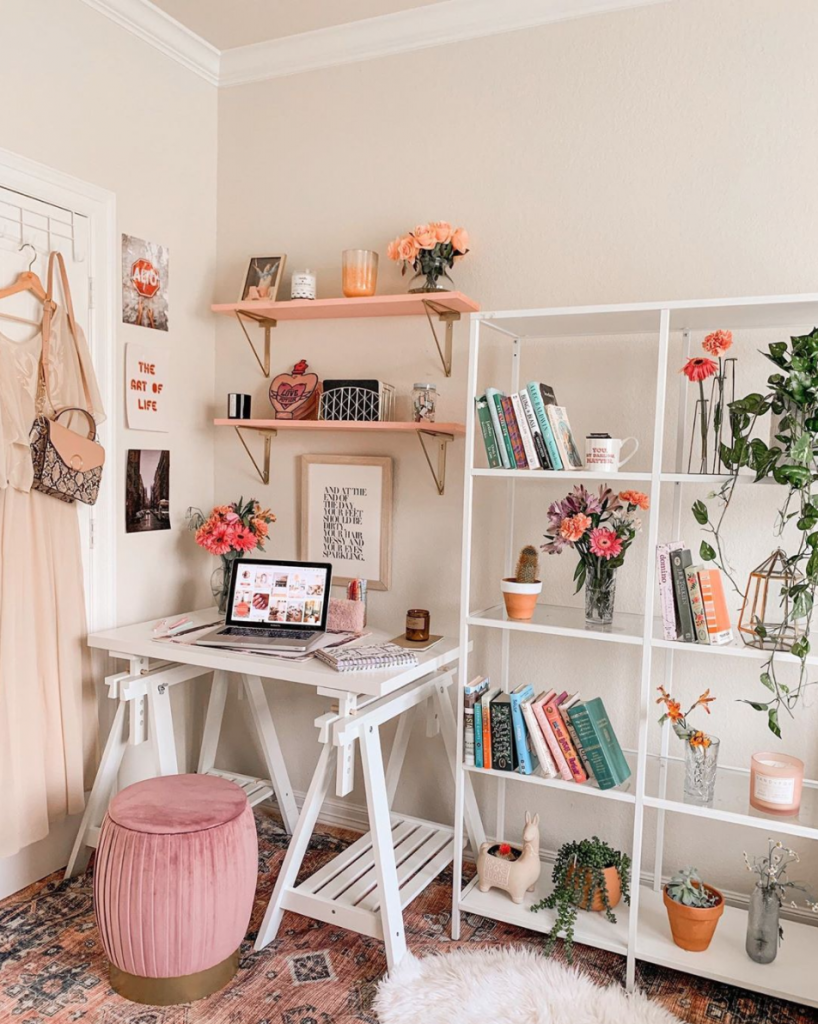 This WFH setup is a dream for those who enjoy colors, quirky knick-knacks and aren't afraid of experimenting with the unknown.
Assorted flowers in vases are peppered throughout the room including the stand-up shelves and you can't ignore the charm they add to this WFH space.
This setup works if you have a large room and want it to double up as work space. It takes up one wall yet doesn't give the impression of a cluttered space.
Anyone who works with more than one medium. If your work involves designing, painting, writing, we'd recommend this setup.
Quick tip: Use a shelf that gives you ample space for your things. Go for a chair that is comfortable but one that gives you a chance to move freely.
Sarah Gibson's WFH space is heavily influenced by minimalistic decor style where she has fully utilized the space by filling small racks to store papers and small stationery.
She cleverly spaced out artifacts making sure to leave an airy center portion to inspire an office-like ambiance with little to no clutter within the vicinity.
The lighting scheme adds warmth to the desk instantly brightening up an otherwise muted space.
Coders, designer and anyone who likes muted shades and an organised and clutter-free desk.
Quick tip: Keep the desk neat and store away essential items in the shelves lining the wall. We recommend adding a few potted plants.
We hope our carefully curated list inspired you to remodel your WFH space. Remember, the key is to decorate your workspace the way you want to. If it doesn't tell your story, you'll probably grow out of it in a few days. So think and experiment to create a WFH space where you belong.