Want to know a secret to a well-decorated house? It all starts with putting some holes in your walls and hanging up some artwork.
Seriously, nothing makes a home feel less home-y than empty shelves and big blank walls.
Put your rug down, bring in the furniture, and then get to work on your wall decor. A few thoughtful pieces will quickly take your home from feeling blah to feeling decorated and cozy.
Another big perk of wall decor is that there are limitless possibilities and so many DIY options. You can create something that's just your style without breaking the bank.
Here are my 7 favorite DIY wall decor ideas from my home. I hope you find some inspiration for your own home!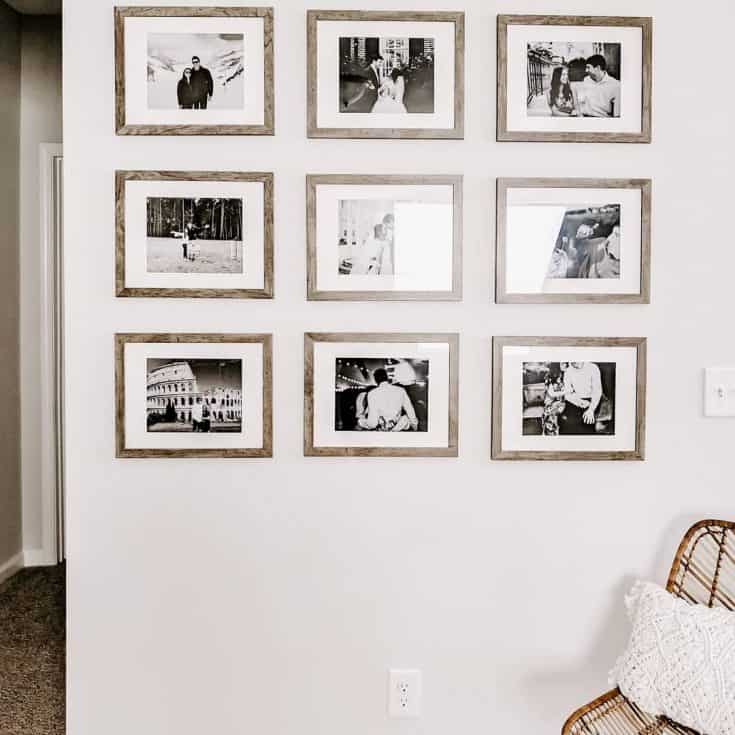 If you're looking for that well-designed look in a matter of minutes, fill a blank space with a gallery wall. You can either go for the classic grid pattern or mix and match several photos and other wall decor in a cluster.
If you're more of a visual person, plan out your layout on your wall using painter's tape before you reach for the hammer.
Make all of your photos black and white for a cohesive look, even if all your photos aren't from the same event. We ended up mixing together black and white engagement, wedding, and travel photos to display some of our favorite memories in a neutral way.
These little wood squares are the perfect addition to pretty much any wall.
They add just enough detail and interest without taking up a lot of real estate, which makes them especially perfect for those awkward nooks and crannies and small walls.
Hang them as is or let them act as a frame for some small photos.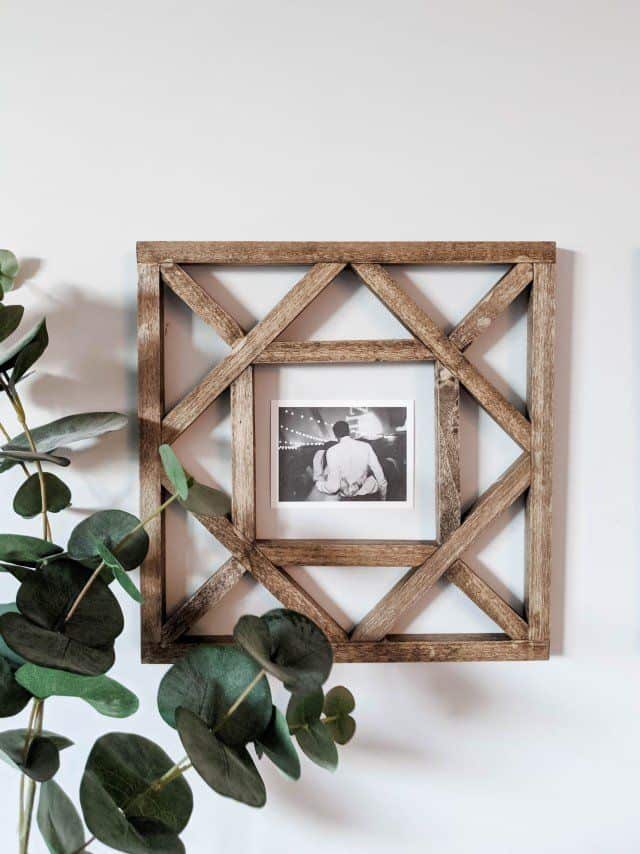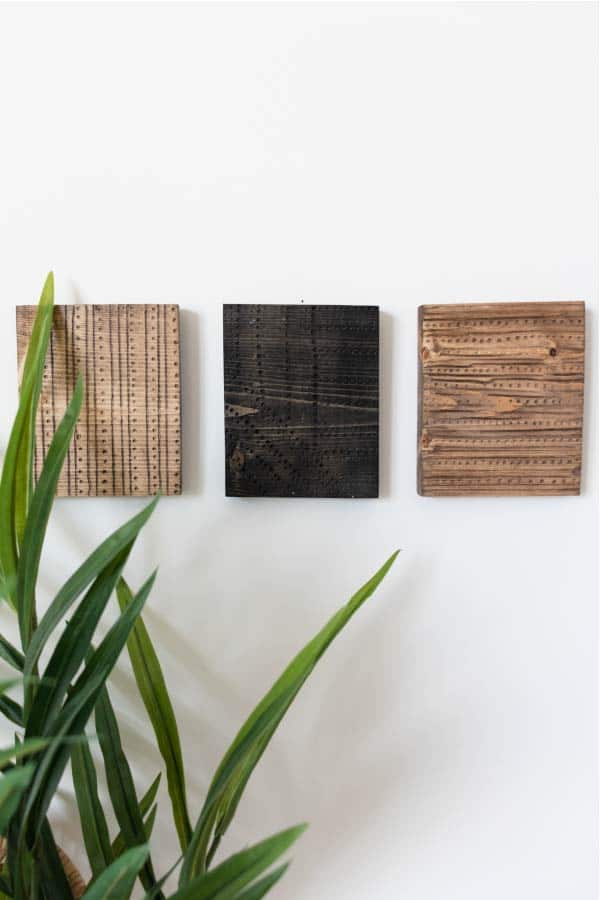 I love that the imperfectly straight lines and simple patterns of these carved wood art pieces give them a handcrafted feeling. It adds a little warmth to any space.
All you need to make this cool carved wood art is some scrap wood and a rotary tool kit. Start by sketching out your pattern with chalk on your scrap pieces of wood. Select your wood carving bit and power on your rotary tool kit.
Trace over your chalk lines until everything is carved to your liking them finish with a stain of your choosing. Special Walnut is always a favorite of mine!
Add a combination of straight lines and dots for an easy-to-carve pattern, or get fancy and carve in a design that's meaningful to you.
When designing my home, I want it to be MY home. I want it to feel personal and be a reflection of my family and memories we've had, without being filled to the brim with family photos.
One way to add a personalized touch to your home without photos is to frame a meaningful date. It looks like a modern piece of art, while still letting you reminiscence on happy days.
To make your own, find a font that you love and trace the numbers onto watercolor paper. Then start painting!
To this day, this little watercolor is still one of my favorite pieces of decor in our home. I love the calming colors and the frameless look.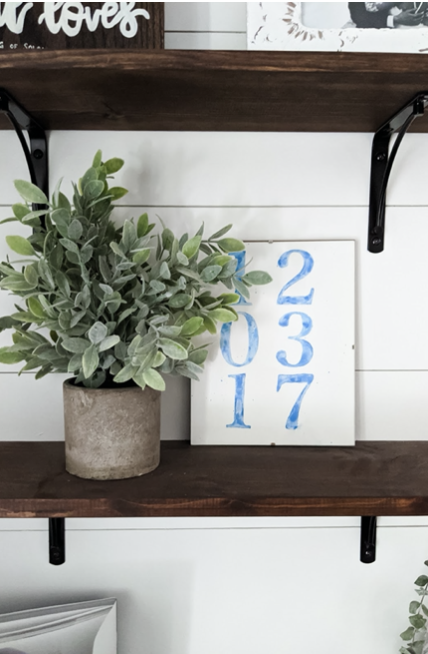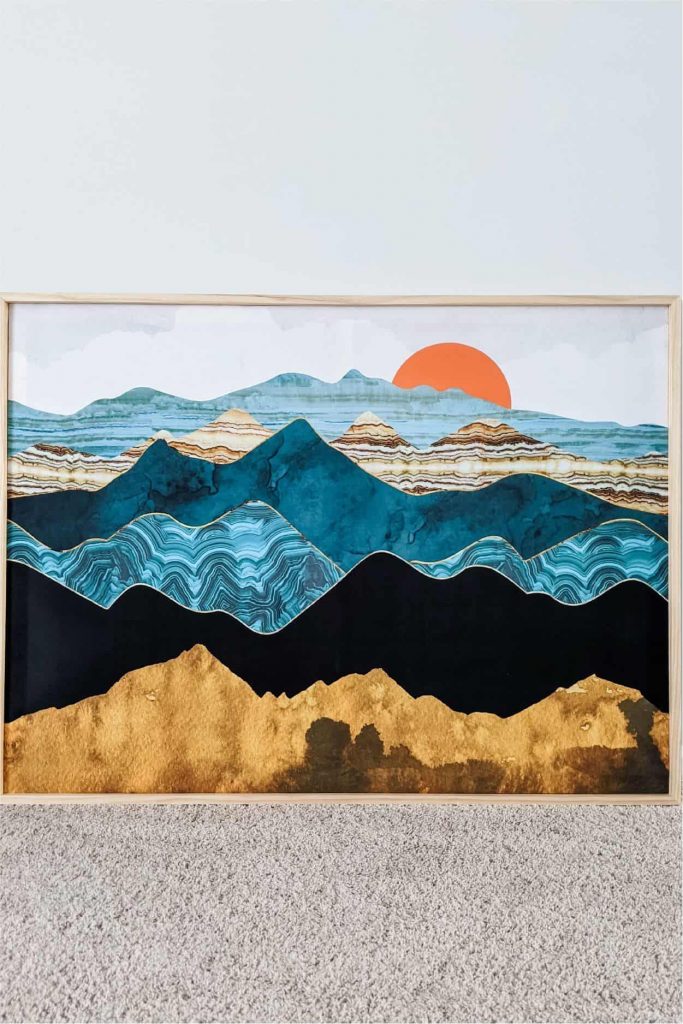 If you need a BIG piece of art without spending a fortune, I've got a DIY idea for you.
To make the giant piece of art in the picture above, I framed a giant tapestry to get a custom artwork feel without paying the custom artwork prices.
Making the frame only takes a few hours and requires minimal tools.
The most difficult step is deciding on your favorite tapestry. Get the full tutorial.
A photo ledge is the perfect way to fill a large wall and to keep your home decor flexible. Since you just rest the photos on the ledge, it's easy to swap out artwork and photos without the hassle of making sure the picture is hung perfectly straight.
Making your own is so simple. Cut a 1×4, 1×3, and 1×2 piece of wood to the same size, glue them together, and add some nails. The 1×4 is the back, the 1×3 is for the middle, and the 1×2 is the front ledge.
Quick tip: Add a mix of art and personal photos for a thoughtfully curated look.
This photo ledge is in our game room, so we framed a mix of watercolor art, game day photos, and newspapers from big sporting events to tastefully display memorabilia.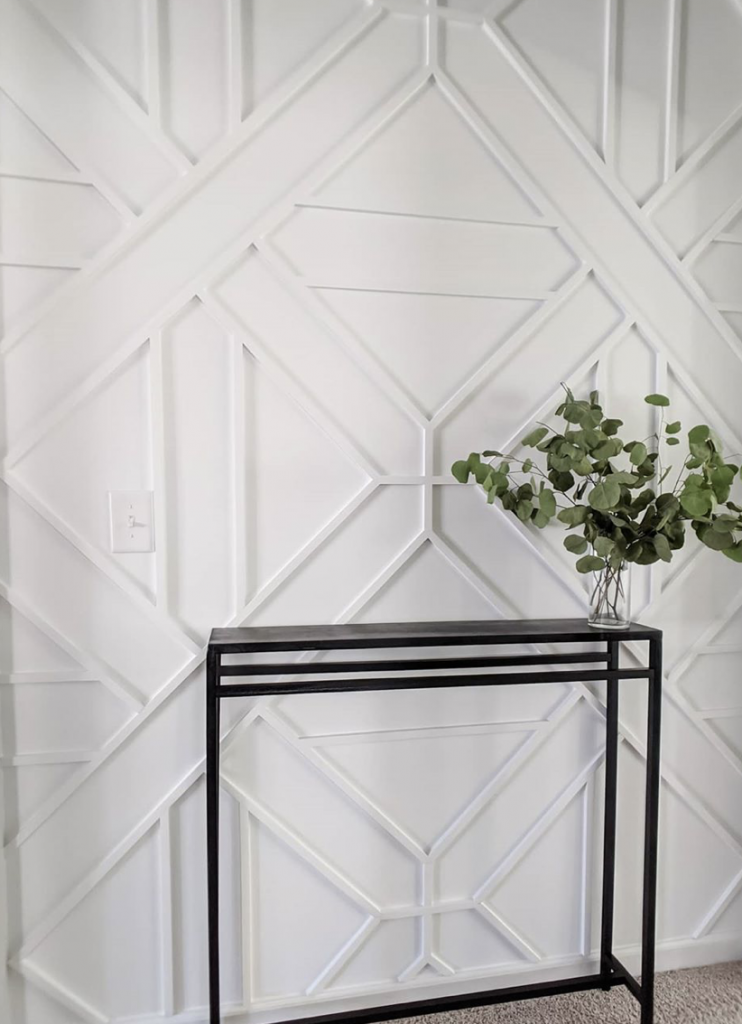 Okay, you're right. This *technically* isn't wall decor, but it sure does dress up a wall. In fact, it's one of my favorite ways to decorate a wall.
In our house, we have 8 accent walls, each with their own unique look and finish. Try shiplap, a painted mural, or a modern wood wall.
The above feature wall is our latest creation. The bright white finish and vertical lines made the ceilings in this hallway feel twice as tall!
Quick tip: If you want to make an accent wall, but you're struggling to decide where it goes, think about what in the room is the focal point. It could be your bed in your master bedroom, or your TV in your living room, or maybe above your vanity in your bathroom. Most walls that are already home to a focal point in a room are great candidates for a fun wall treatment.